UK's Best Web Development
Agencies for UI/UX Design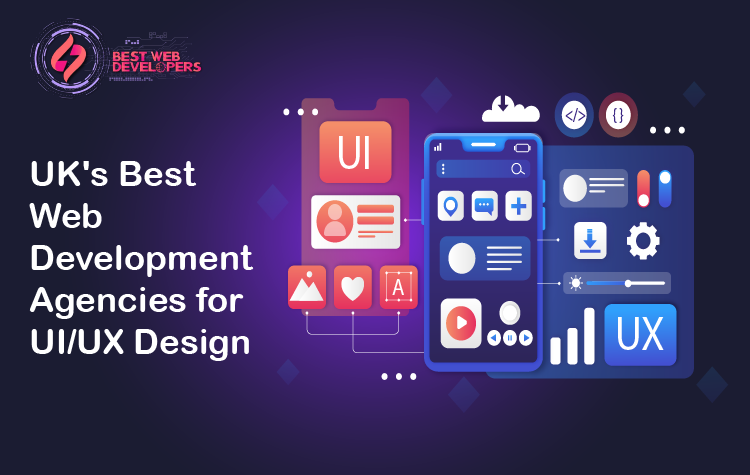 Finding the Best Web Development Companies for UI and UX is not easy. Web development agencies are becoming popular and spreading all over the UK. However, it is important to find the best agencies for better development, design, and visibility. If a brand's website doesn't leave a favourable first impression, 90% of people have a negative opinion of it. The first thing that visitors will see about your business is your website.
That is why it is important to hire the best web development and web design agency in the UK for your business's success. In this blog, we are going to discover the top 9 web development companies in the UK that do the finest UI and UX. Without further ado, let's see the list of the UK's best web development agencies for UI/UX design.
With unique and innovative in-house developers, Best Web Developers is known as the number 1 web development and UI/UX design company in the UK. Where they use cutting-edge technologies, and with the help of those technologies, they develop and design websites. They have been known for their professional developers, who have years of experience in this field. Their development process goes through very intensive processes to ensure their development can stand as no.1 in SERPS.
Their work is unique, and they update every process to the client so they can stay up-to-date with their websites. Every in-house professional has years of experience and a deep understanding of web development and web design, Best Web Developers has been leading in the UK as the best web design company. Their priority is always their clients and their every work is according to the clients.
Best Web Developers have been awarded many times in this field. Their portfolio is increasing every day, which helps the new clients to know them better. For their client's businesses, they work hard to provide them with the success and visibility they need. Other than development and design, the Best Web Developers over a wide range of services, such as SEO, PPC, Amazon, content management, and many more. They have a proven record of ranking websites with SEO and keyword research. No wonder Best Web Developers is becoming popular each day in the UK. Clients are putting their trust in them because they are the best web design company.
KOTA is a UK-based agency that offers a variety of digital services. KOTA has been working with well-known clients such as Penguin Books, Jamie Oliver, Diageo, and Saatchi. They construct screens for desktop and mobile devices simultaneously while taking user experience (UX) into account when developing websites.

In addition to providing graphic design services in the UK, they also offer web development services that combine visual and technical expertise in HTML5, CSS, and JavaScript. The KOTA team is made up of numerous professionals with various educational backgrounds. They combine the strategy, creativity, and technology of a large firm with the mindset of a smaller, independent agency.
Together is a top graphic designing agency in London that provides digital solutions for tech companies. It was established in 2018 and provides services such as UI and UX design, web development, branding, strategy, and research to create digital experiences and support brand transformations. They have strategists, authors, designers, and developers in their staff.
Together focuses on serving customers in the tech sector, especially in the SaaS market. They deal with well-known companies like Mosaic, Amazon, Unit, HP, Morgan Stanley, and Global Payments, and their hourly prices start at $100. Because of their focus on the technology sector, they are better able to comprehend the particular difficulties that these businesses encounter.
They are a dependable option for tech organisations searching for high-calibre services, according to Clutch. Together is more than just a web design company. They specialise in designing and developing digital products that are essential to customers' daily lives.
From mobile apps to websites, together understands the importance of creating visually appealing designs that are user-friendly and intuitive. Their focus on user experience ensures that their digital products are not only aesthetically pleasing but also functional and practical.
Bird Company is recognised as the second-best development and design company in the UK. With years of experience, Bird provides the best development and design company whose motive is to only provide development. One reason behind being the leading company is Bird's developers don't settle down until they develop and design the best websites, which are going to rank and get visibility.
Their affordable and customised packages are tailored to clients' needs. They guarantee the results and won't settle down until the client is satisfied. They have a deep knowledge of UI/UX and web design, which is why their portfolio is growing. Other than development and design, Bird is known for its digital marketing, PPC, and SEO services.
Bird Company has been satisfying their clients since 2010, and ever since, they are doing its best to stand out as a leading company. Their every single service is tailored according to the needs of the client, and their workflow supports them in that.
Every company tells its story, and Reactive is also one of the leading companies which strive to be the best. With few in-house professionals, Reactive has been becoming a leading company in the UK and other places. They specialise in cutting-edge technologies, and by leveraging them, they produce the best website designs which soothe the clients. Their UI/UX is their main strength. With the help of cutting-edge technology, they produce the latest UI/UX trends.
Their workflow is flexible, and that's why many clients prefer them as a go-to company. In their portfolio, they have 90% of satisfied clients, and they provide full support to their clients even after the development is completed. UI/UX trend is becoming popular in the UK, and every company is trying to compete in the competition. With almost 20 years of experience in this field, they have been awarded many times. Their whole work process depends according to the clients.
They create customised techniques to please their clients. They also have a proven record of working with well-known companies. The reactive company offers a wide range of digital marketing services where they make sure to help their clients succeed.
Quarter Digital is a top-rated web design studio whose mission is to develop and design top-notch websites and apps. Their professional web developers and web designers produce the best UI/UX for their clients. Quarter Digital is a company that aims to simplify the online world by creating websites that inform and convince.

Their primary goal is to help businesses and organisations effectively communicate their message to their target audience through user-friendly and engaging websites. Quarter Digital is a web design company that prides itself on using Webflow, a user-friendly platform that allows businesses of all sizes to easily create and update their websites without the need for coding.

This method gives startups, small enterprises, and entrepreneurs more control over their online presence by allowing them to swiftly and effectively make modifications to their websites. Furthermore, Quarter Digital offers local SEO services, placing a focus on both developing attractive websites and enhancing their clients' online visibility through natural SEO (Search Engine Optimisation).
Providing clarity and creating something distinctive for their clientele, Polar is a certified B-Corp website design company. The Polar company prides itself on its small team size, even after its start-up phase. With only seven members, the team works efficiently to provide the best possible service to their clients. Collaboration and support are key values for the team as they strive to improve both their design skills and personal growth.

Polar is a company that offers a range of design services to its clients, including web design, branding, and general design. They specialise in creating designs that connect with the audience and work across all mediums, whether it's print, social media content, or digital marketing campaigns. With their expertise in design, Polar helps their clients stand out and make an impact in their respective industries.

As long as they share the company's values of passion, purpose, agility, and ambition, The Polar Company works with brands of all sizes, both domestically and abroad. They have collaborated with many famous companies.
A UK-based Flick Media company has specialised in creating websites and doing online advertising. Their team of experts serves companies of all sizes, assisting them in standing out from the competition with distinctive and well-designed websites. Flick Media places a high value on openness and client satisfaction, making sure that their customers obtain a user-friendly website that accurately represents their business.
Among the services provided by Flick Media, a full-service digital agency, are website building, SEO, social media marketing, and mobile app development. Their staff specialises in building original websites catered to the specific requirements of each client, and they additionally offer online solutions to enhance web presence and marketing initiatives.
Flick Media is a company that has been around since February 2008 and has kept up with the latest trends and techniques in online services. They pride themselves on offering customised and up-to-date services to their clients. Throughout the development process, they value their clients' feedback and take their thoughts and criticisms into consideration.
Their goal is to completely satisfy the customer. Instead of quoting based on assumptions, they offer a structured proposal for the requested service that lists all of the top options.
Another well-known business in the UK is Web Choice, whose team of experts in web development and website design in the UK is committed to providing the best web design services to suit the particular requirements of each and every client.

With years of experience and a thorough understanding of the most recent web design trends and technology, their team can assist you in creating a strong online presence that draws more users and promotes business success.
Web Choice was established in 2009 and has been serving its clients ever since. Their work is honest and consists of hard work. With keen knowledge of development and design, Web Choice Agency has been leading in the UK. Other than development and design, they have provided a variety of services like SEO, PPC, CRO, and content marketing. Visit their website to learn more about their portfolio.
These websites are based on research; hopefully, you can find the best website for your web development and web design among them. Best Web Developers is a leading website in the UK that offers the Best Web Development and Web Design services. They always prioritise their clients and their needs. They have mastered the art of producing top-notch services where they provide a transparent workflow. When choosing a development company that specialises in development and UI/UX design, it's important to look for a company that has a track record of creating engaging designs that meet the needs of its clients. The companies on this list have proven themselves to be leaders in the industry of the UK and can help take your digital presence to the next level.