Data-Driven Digital Marketing
Analytics for UK Organisations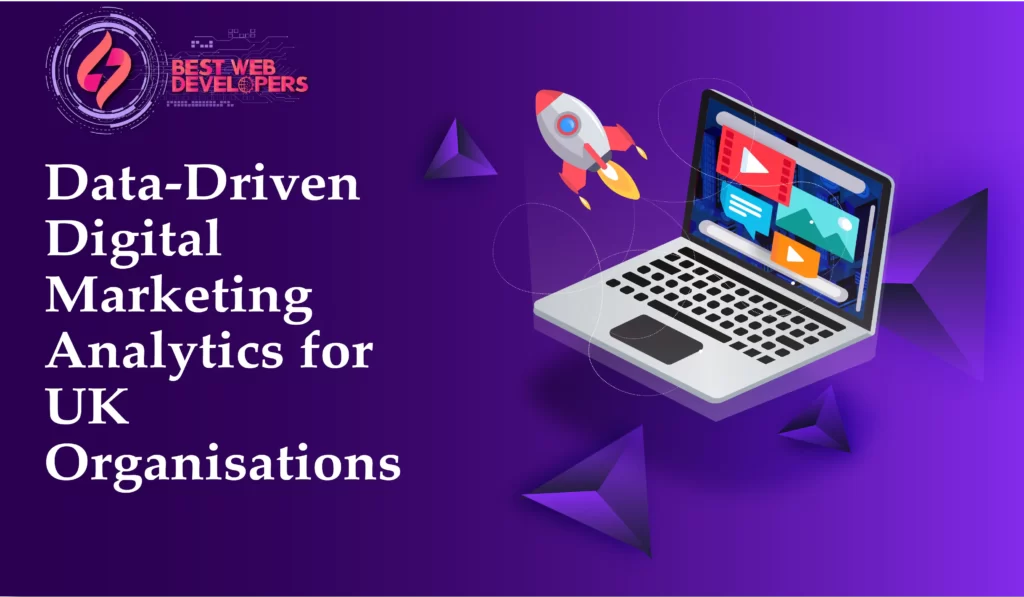 In simple words, data-driven means a strategic and integrated approach. Data-driven is a developed marketing spreading all over the UK. It's becoming popular every day because it is considered a profitable and strategic approach. This method is considered by utilising various digital marketing data and includes analysing and interpreting to provide the best outcomes. By using this method, UK organisations are growing their profits and making accurate decisions. However, it has still a place of improvement since it is not entirely perfect.
Furthermore, a leading company called Best Web Developers is getting recognition due to its efficiency in data-driven digital marketing analytics. It is a UK-based data-driven digital marketing agency which has overcome every flaw in data-driven marketing and leveraged it to provide the maximum profit for its clients. Data-driven digital marketing is going to play a crucial role in accurate data prediction and strategic methods. Thus, it is important to know everything about data-driven digital marketing since it provides guaranteed ROI.
The Main Goal of Data-Driven Digital Marketing Analytics
Many people are still not aware of the main goal of data-driven digital marketing analytics. The main goal is to provide the customer's information based on data analytics. There are many UK organisations that provide data-driven digital marketing analytics. Organisations like Best Web Developers specialise in data-driven digital marketing analytics.
As they know every aspect of it, they provide accurate data based on the analytics. With the help of these analytics, you can maximise your profit and ROI. By utilising the data, you can improve your customer retention and create a bond with your audience. Data-driven marketing analytics provides strategies that are tailored to specific customers. With the help of Best Web Developers, you can attract your customers more easily, and this is why data-driven digital marketing is important.
Benefits of Data-Driven Digital Marketing
It is necessary to choose the right audience for the newly launched brands, who try to capture their audiences every day in this era of digitalisation. Data-driven digital marketing plays a huge role in helping brands reach the right audience. Other than helping brands reach the right audience, data-driven digital marketing also helps in
Increasing sales
Getting ROI
Understanding the audience
Increased engagement
Creating personalised messages
Scaling businesses
Best Web Developers agency offers affordable and customised packages and many other benefits, such as insights into click-through and conversion rates.
Types of Data-Driven Marketing Analytics
Data analytics is crucial, which is why our marketing agency uses only advanced analytics, which shows the best results. The main types of data-driven marketing analytics we use are descriptive, diagnostic, predictive, and prescriptive.
According to the survey, those who perform data analytics are more likely to outperform their competitors, and these four are considered advanced analytics. Let's understand each one in detail.
By using historical and current data, descriptive analytics work to identify trends and connections. However, it is considered the simplest form of data analysis since it cannot dig deeper. Results are frequently displayed in reports, dashboards, bar charts, and other plainly understandable visualisations. Descriptive analysis is commonly used for:
Predicting survey outcomes
KPIs for behaviour modification
Identifying unusual behaviour
Comparing businesses
Acquaintance with sales trends
Checking the quality of a new programme
Planning a new programme
Financial reports
Diagnostic analytics is used to understand the past and improve the future. The simplest form of analytics focuses on "Why did this happen." Diagnostic analytics identify issues and prevent the same issues from recurring.
Furthermore, in the business world, diagnostic analysis is used to identify areas for improvement in processes and operations. Our top-notch company uses diagnostic analysis to analyse customer data and identify reasons for low customer satisfaction ratings. Diagnostic analytics also help in
Improving decision-making
Increased efficiency
Improved performance
By leveraging diagnostic analytics, our company guarantees results and increased sales.<
As we talked about diagnostic analytics and how it is used to understand the past to improve the future, predictive analytics is used to understand the future to improve performance. It focuses on "How can we fix this problem" by analysing trends in data.
Predictive analytics is well-known in financial industries. Banks and financial industries use predictive analytics to forecast market trends, identify investment opportunities and manage risks. However, our top-notch leading company leverages predictive analytics to maximise investment returns. Furthermore, we use various techniques, including data mining, machine learning, and statical modelling. By leveraging these techniques, we will help you in:
Improving decision-making
Increasing efficiency, and
Competitive advantages
Problems with Data-Driven Marketing
As we know how much data-driven digital marketing is important and beneficial for business. However, like all other things, data-driven marketing has its flaws. These flaws are the reason for being an obstacle between businesses and customers. Let's dig into the flaws:
One of the main issues with data-driven digital marketing analytics is the issue of data quality. No matter how accurately you analyse certain data, the issue of data quality is always there. However, this issue can be resolved like other issues. In order to tackle the issue of data quality, it is important to use only high-quality data. High-quality data can help you predict your customers easily and provide them with what they are looking for.
Issue of Privacy and Security
It is important to protect the collected data of customers. As data-driven digital marketing analyses help you collect a huge amount of the customer's data, it is also becoming usual to hack the data. Thus, the hacked data can jeopardise the user's personal information and more. In the UK, there are many reports filed for breaches of data, and UK organisations are trying their best to protect their data, but it will always be a problem unless companies take a strong initiative to protect that collected data. Developers are working on the latest technologies to tackle the breaches in data.
Since collected data cannot be 100% accurate, it can lead to an issue of biases. Issues of biases can lead to major inaccurate data predictions, effectiveness and recommendations. To tackle the issue of biases, you need to hire the best UK organisation that can help you with this.
Overall data-driven digital marketing analytics is a good approach to understanding the audience and helping with audience retention. However, it is not yet perfected in any way. It will take time until we get 100% accurate data. The accurate data helps with profits, retention, ROI, campaigns, and targeted locations. But it is still playing a crucial role in businesses. Flaws aside, everyone must learn to use data-driven digital marketing analytics to help our business succeed.