Amazon PPC might change.
Are retailers ready?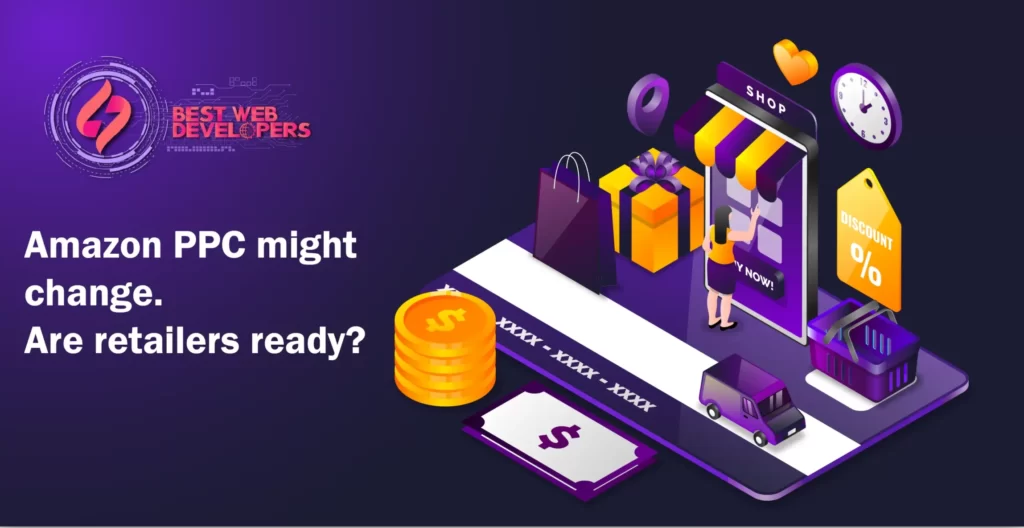 Amazon is the biggest marketplace in the world, and as the world's largest online marketplace, Amazon has transformed the way we shop online. One of the most powerful tools that Amazon offers to sellers is its Pay-Per-Click (PPC) advertising program. However, recent developments suggest that Amazon PPC might be undergoing some significant changes.
According to recent reports, Amazon has been testing a new PPC system that would replace the existing program. The new system would be called Amazon Advertising Console (AAC) and would offer a range of new features designed to make advertising on Amazon more efficient and effective. To learn more about Amazon PPC, you can hire a top leading company for your assistance. Best Web Developers is a leading company that offers every service related to Amazon.
What are Some of the Changes that Amazon PPC Users Can Expect With the Introduction Of AAC?
First and foremost, AAC is made to provide advertisers with a simpler and more user-friendly interface. The platform is believed to have comprehensive reporting and analytics capabilities, making it more user-friendly than the current system.
Secondly, new advertiser targeting possibilities are apparently being developed by Amazon. This might feature enhanced keyword targeting capabilities as well as new audience targeting possibilities. Retailers will now be able to more precisely target the correct demographic for their marketing, which is fantastic news.
Finally, a new bidding system that would make it simpler for advertisers to manage their ads is also being tested by Amazon. Retailers may save time and money with the new system's more automated bidding procedure.
Despite the potential advantages of AAC, retailers may still face difficulties as a result of the changes. Many retailers may find getting used to the new interface and feature challenging since they have grown accustomed to the current PPC system. In order to optimise campaigns, the new targeting possibilities might necessitate a sizeable time and resource commitment.
However, it is becoming clear that Amazon's PPC Management is changing, and retailers will need to be prepared to adapt to the changes. While the new system offers exciting new features and capabilities, it may also require a learning curve for some retailers. Ultimately, those who can successfully navigate the changes will likely benefit from improved campaign performance and a more efficient advertising process. It's better to target to increase personalisation.
Targeting to Increase Personalisation: How To Create A More Effective Marketing Campaign
For a good reason, personalisation has become a marketing buzzword. You may design a more interesting and successful campaign by focusing your marketing messages on particular audiences. However, personalising an email requires more than just using the recipient's first name. You must use targeting tactics that help you gain a deeper understanding of your audience if you want to genuinely tailor your marketing efforts.
So how can you use targeting to make your marketing campaigns more personalised? Here are some tips:
1. Use Data to Create Audience Segments
Understanding your audience is the first step in developing a tailored marketing plan. You can construct segments that let you send customised communications by assessing data such as demographics, interests, and behaviours. For instance, you might make groups based on location, age, or past purchases.
2. Tailor Your Message to Each Segment
After you've divided your audience into distinct groups, it's time to craft messages that will appeal to each one. This could require developing unique messages for each section or modifying your messages to better suit the preferences and habits of each group.
3. Use Personalisation Techniques to Make Messages Stand Out
Personalisation can help your messages stand out in a crowded marketing landscape. For example, you might use dynamic content to display personalised messages to each segment or retargeting to deliver targeted ads to users who have already interacted with your brand.
4. Constantly Testing and Optimising
Personalisation can help your messages stand out in a crowded marketing landscape. For example, you might use dynamic content to display personalised messages to each segment or retargeting to deliver targeted ads to users who have already interacted with your brand.It is important to keep testing and optimising the campaigns by using analytics data like open rates, CTR, and conversion rates. The constant testing and optimising help you identify insights like what's working and what's not, and then you can adjust your strategies according to it.

However, focus on targeting because it is a powerful way to create more marketing campaigns. Spend some time understanding your audience and customising messages. Creating an effective campaign is an art, and you can do it easily by continuously testing and optimising.

Furthermore, you can leave all this to Web Best Developers, who specialise in increasing personalisation and offer services in Amazon account management.
Factors that Prompt Amazon to Modify Their PPC Changes
Because of customers' behaviour, Amazon keeps changing its PPC. Sometimes clients become demanding, and that's why Amazon has to adapt to meet their needs. All this behaviour changes the ways ads are used to display and modifies the options available to advertisers. Let's find out the reasons why Amazon is changing its PPC.
Amazon is the biggest marketplace right now, so you can imagine the competition within the marketplace. Amazon keeps working on new features and capabilities that help sellers reach out to their audience. The increased competition also updates the bidding system.
2. Technology Advancements
There is no doubt that technology is advancing, and Amazon needs to be ahead of the advancements to provide a much better user and retail experience and also includes AI and ML to enhance the retail platforms. If Amazon includes the AI option to learn about the client's behaviour, it will fix most of the issues that retailers face now.
3. Changes in Regulations and Policies
Due to the frequent changes in Amazon's regulation policies, retailers on Amazon are getting worried because they are facing huge losses and invalid consumer data. Many retailers might switch the platform or stop their business if this keeps happening. The money they are investing in Amazon's PPC is not generating revenue or any ROI. Due to this factor, the competition on Amazon is increasing each day. Now retailers have only three options: changing their strategies, facing huge losses, or hiring Amazon PPC professionals to help and support them in this business.
How Can Businesses Get Affected by PPC Changes on Amazon?
Since Amazon's PPC has changed, many businesses are being affected and complaining about increased competition and increased costs. If Amazon doesn't stop changing its PPC, it will be hard for businesses to target their specific audience. Since Amazon's PPC has changed, the CPC has also increased. Now businesses need to increase their budget as well. These are lists of how businesses can get affected by Amazon's PPC changes.
1. Changes in Ad Placement and Visibility
Just imagine what would happen if Amazon updates its advertisement system to show ads in different locations or changes the way it appears. If that is the case, businesses would need to modify their bidding strategy to ensure their ads are shown to the correct and potential audience.
2. New Advertising Features and Capabilities
Whenever Amazon changes its functions, which creates difficulties for businesses, it also provides new features to make it easy for businesses. Even Amazon's PPC has changed now. Amazon may add new features to make it easy for businesses to navigate their target audience. It might also update its formats so businesses can easily find their target audience.
3. Need for Adaptability and Flexibility
Eventually, the major influence of the PPC changes on Amazon might be a business requirement to be flexible and adaptable. With the advancement in the platform, businesses should adjust their strategies of advertisement and get benefits with the new opportunities. It needs a capability for experimenting and trying the latest trends and also an in-depth understanding of the audiences and the particular platform.
Guidelines for Retailers to Adapt to Amazon PPC Changes
Retailers have been striving to adapt to PPC changes since Amazon announced them. To adapt to Amazon's PPC changes, retailers need to stay up-to-date with Amazon's policies and understand how these policies can impact their advertising strategies. Staying up-to-date means acknowledging and understanding Amazon's announcements. Follow the below guidelines to adapt Amazon's PPC changes.
1. Understand Your Target Audience
In every business, understanding the target audience plays a crucial role in creating successful campaigns. Understanding the audience's behaviours, preferences and past behaviours is a must. Once you successfully understand that, you can create the most successful campaigns. However, neglecting this crucial information may affect understanding your target audience.
2. Monitor Your Advertising Performance
To understand how your ads are performing, you need to regularly monitor your advertising performance, and this is also known as an effective PPC. Along with monitoring your ads performance, you also need to look out for the CTR, conversion rates and ad spending.
3. Experiment with New Ad Formats and Targeting Options
One theory suggests that experimenting with new ad formats and targeting options can generate retailers the maximum ROI since Amazon keeps introducing new features. This technique can be very useful and effective for retailers to drive sales as well. Give some time and learn about Amazon's algorithm, and you can find its loophole. If you keep experimenting with the new options, you will get better with ad formats and targeting options.
4. Work with Experienced Amazon PPC Experts
Understanding Amazon is not an easy task, but you need to know all about Amazon since there are options, such as working with experienced Amazon experts who provide the necessary support with your Amazon's PPC. You can find these companies online. These companies also provide insights and support retailers in their success. With the help of these companies, you can achieve your advertising goals, and there are affordable experts as well who know the ins and outs of Amazon and have been working on that platform for a long time. Best Web Developers is a leading company in the UK that provides the best Amazon PPC services and generates the maximum ROI.
What is Location-Specific PPC Advertising on Amazon, and Why It Matters, and How Retailers Can Adapt?
Location-specific PPC advertising is to target ads to specific locations, cities or regions and easily target where their audience is located. Location-specific PPC mainly benefits retailers with physical stores or local inventory to drive more traffic and boost their sales.

Location-specific PPC is becoming popular because it helps with location-based intent. Location intent means your ad will pop up if someone searches for anything which is related to your services near your location. By utilising location-specific PPC, retailers can get a boost in their revenue, and it also increases the advertisement's effectiveness. Let's understand how retailers can adapt location-specific PPC.
1. Determine Your Target Locations
It is important to know about the target locations, and this must be the first step for retailers. The target locations include cities, regions and physical store locations. Physical location determines the target audience location with the help of PPC advertising. It is also necessary to consider the high-demand areas because it means high demand for a product or service.
2. Create Location-Specific Separate Ad Campaigns
Amazon's PPC experts say retailers must start creating separate ad campaigns for each targeted location. This strategy helps them in bidding, creativity and targeting options. This strategy has proven beneficial many times and may help retailers generate more revenue and boost their business.
3. Use Location-Specific Keywords
As we have learned how location-specific ad campaigns are helpful, let's understand how location-specific keywords play a huge role. Using location-specific keywords increases the relevancy of the ads. Hence, it is important to do keyword research and choose the keywords that are location specific. Using the right keywords also helps in improving ad performance on Amazon.
4. Monitor Your Advertising Performance
To know about your advertising performance, learn to monitor your advertising performance by using metrics such as CTR and conversion rates. With the help of these matrices, you can instantly identify the areas for optimisation and improvement. Even in the future, these matrices will assist you in your motive. Every big business uses this metric to knock out the failures in their campaigns.
All this above information is based on research, it might have missed some points, but the information in the blog is accurate, and you can take advantage of it. It is also important to keep in mind that Amazon keeps changing and modifying its rules. To stay up-to-date, you will have to read its manual every day. Understanding Amazon and its algorithm is not easy, so if you face any problem understanding that, you better search for Amazon's PPC experts who are aware of the algorithm and have helped businesses succeed. Amazon PPC services might be extensive, so look for affordable companies that offer reasonable Amazon PPC services and help you with Amazon account management. Best Web Developers is one of them. Best Web Developers offer their best people to help you in your business success.